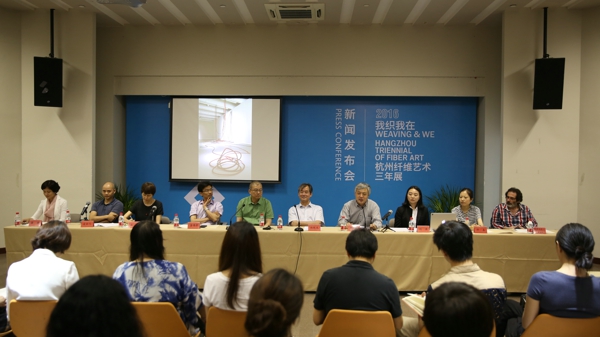 After three years in September, 2016, a beautiful autumn, Hangzhou – the ancient silk city and modern leisure city – will hold the second Hangzhou Triennial of Fibre Art. Again, an international dialogue based on history, humanity, life, environment, internet and science and technology will be created from the fibre art's perspective on a large special and chronological scale.
As the only international triennial of fibre art, the first Hangzhou Triennial of Fibre Art achieved a great success in autumn in 2013, which attracted over 150 thousand visitors and artists from more than 40 countries and regions. The general public for the first time has a chance to learn about the modern fibre art. In the next fall, while the second Triennial of Fibre Art is held, G20 Summit will also be hosted in Hangzhou. At that time, the international metropolis will be paralleled with the international project, which will bring international vision as well as cultural vitality to our exhibition.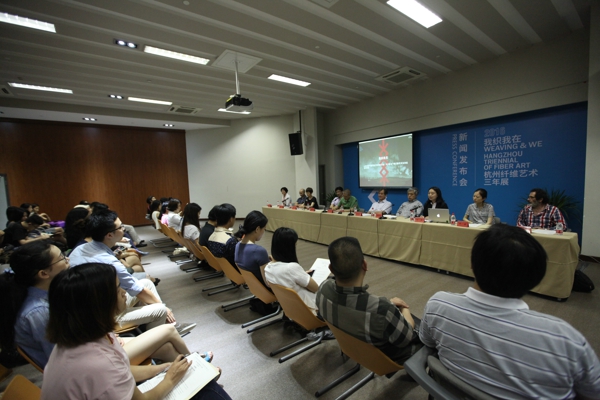 If we say that the theme of the first Triennial – Fibre As a Vision – is a way to seek a multi-view, the theme of the second Triennial – The Weaving & We – is to declare a new worldview and to ask people come back to the most basic question of fibre art. The question "Why are we weaving" is not only posed to not only the artists but to handicraftsmen, educational and technological institutes, local industries and even each ordinary worker. There are two young curators of the second Triennial of Fibre Art – Liu Xiao and Xu Jia, and Assadour Markarov from National Art Academy of Bulgaria in Sofia – want to emphasize the relationships among weaving, people and society and want to use all our physical body perceptions to find the essence of art under the current status of art field.
Therefore, "weaving" and "existence" are not only the themes of the Triennial exhibition this time but also a way to organize the exhibition. The exhibition takes an attitude of repeated weaving to narrate the whole exhibition. It sets roles, props and scenes to arrange the artworks, thematic structure and social scenes. Besides over 40 fibre art artists, modern artists, weavers and architects from almost 20 countries, the exhibition has also invited those most active researchers, curators and scholars who know a lot about the modern theory of fibre art to do some case studies of fibre art educations in the history. They will demonstrate the on-going weaving projects and construct complete world fibre archives. The exhibition has also introduced academic dialogue mechanism called Fibre Channel, which will be shown through some images and videos of interviews and dialogues. All these make it a comprehensive repertoire with independent methodology.
In the exhibition, visitors can use narration, praise and declaration to express their existence. Also, they can use prediction, dissuasion and forgetting to express their existence. They constitute roles with the artworks; props become a visual grammar to show local culture, fibre art and traditional skills; scenes are composed by proverbs and local scene with mystery historical metaphors: hosiery in Datang Town, embroidery in Zhen Lake and so on. Regional scenes – one of the main characteristics of the Triennial exhibition – are the status of the society and industry that the modern artists have to face. Weaving does not only happen to creators but also happen in the concrete but lively, daily but profound social reality in the way of industries, clusters and family relatives.
The Triennial exhibition this time will also strengthen its relationship with schools of art. During the exhibition, numerous international schools of art including Kunsthøgskolen i Oslo will be invited to co-organize a textile workshop, which will be opened to all the college students and researchers in relevant fields.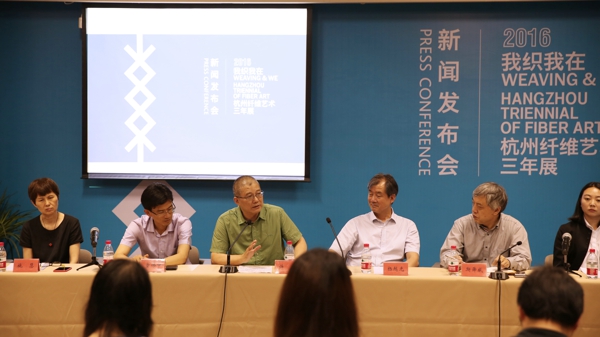 Meanwhile, the Triennial exhibition this time also plans to publish some albums of fibre art, which is also the first time in China. In addition, many other books will be published: books about Fibre Channel, about theories of fibre art and about images and videos. All the monographic reports from doctors majoring in fibre art in China Academy of Art will also be rolled into one book and published.
In 1980s, Bulgarian artist of merit Wan Man (Maryn Varbanov) established the first institute of modern wall-hangings in Zhejiang Academy of Fine Arts (now the China Academy of Art), China. The institute established, he put forward a new kind of productive way in educational field of fibre art – combine "production", "learning" and "research". Today, on the basis of Wan Man's theory, the Triennial exhibition steadily formed and developed a brand-new organization weaved by "exhibition", "production", "learning" and "research".
The Triennial exhibition this time will continue the structure of the former one and will be held in Zhejiang Art Museum, Museum of Contemporary Art of China Academy of Art and China National Silk Museum, which will make the Nanshan Road full of the flavour of fibre art. Although the exhibition is for the public, it is still an academic one. The exhibition will demonstrate the most stupendous fibre art works while attaching great importance to the combination with the creativity from regional textile industry. Besides, the archives of modern fibre art educations and researches will be constructed. We hold the view that a recessive connection between fibre art and Hangzhou is forming, just like the wall-hangings with Lausanne, glass art with Venice and artistic literature with Kassel. It is beyond dispute that Hangzhou, as an important city of Chinese modern fibre art, is being re-recognized as a symbol of fibre art by the world. Let's wish this big event a tremendous success!