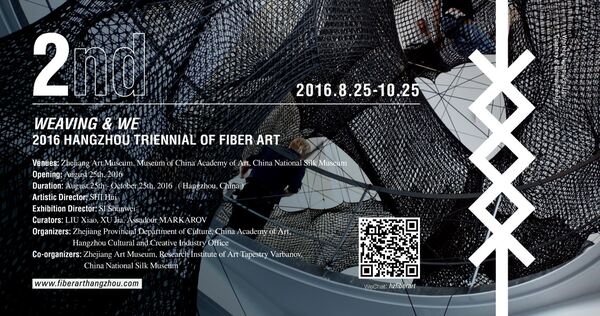 The Weaving & We:Hangzhou Triennial of Fiber Art 2016 will be unveiled on August 25th, 2016. Ever since its first launch three years ago, we've been focusing not only on history of art or of this industry, but also on the artistic creation of art colleges and local production, so as to refresh our view toward arts and city life from the perspective of fiber art.
The press conference for the second Hangzhou Triennial of Fiber Art and the Exhibition "Local Dimensions" (地方的向度) in June, 2015 harbinger the fact that this triennial will be centered around actual weaving process and real life. We seek creative discoveries by local interviews, research and studies, and make creative speeches in order to pursue artistic solution to the production and lifestyle in weaving industry. Our theme "fiber art" signifies our attentions and respect to soft materials as means of spirit and expression in art creation. it is a soft yet resilient medium, a constantly improving, dynamic and unstable platform. By highlighting fiber soft material as a carrier of art creation, we hope to explore the spirit of times and relevant thoughts recorded in this industry.
The exhibition is organized by Liu Xiao, Assadour Markarov and Xu Jia. The year of 2016 will not only continue 2015 sessions, but also develop a series of local on-spot exhibitions, "Fab-Lab" (weaving workshop), international art training program "World Wide Weaving", opening lecture and seminar "Textile Thinking", theme exhibition "W&W", Liang Shaoji's solo exhibition "Liang Shaoji: Cloud above Cloud (云上云)" and many other multithread strategic activities, all featuring the theme of "weaving".
Small Eexhibition: Local Dimensions
As one of the experimental exhibitions of the triennial, the "Da Tang: Local Dimensions" unveiled research and studies about local weaving process and investigations in 2015. In March, 2016, the "Local Dimensions" team and curators started research mainly in Anji town, in whichwhere bamboo-weaving is the main production is bamboo-weaving. They turned weaving process into concrete labor activities, drew experiences that can be imparted and taught, specialized the aim and purpose of weaving process, and renewed the concept of "weaving".
The workshop, named after the word "fabricate"
aims to inspire the organization of the exhibition and the creation of fiber art students with lectures and artist activities before the exhibitionevent, and to integrate related theories and practical experiences into the fabrication of fiber materials.
Since August, 2015, W&W, as the medium between museum exhibitions and academic education, has organized five artists' and scholars' workshops such as "Social Fabrication", "Sketching Hangzhou", "Action for Love" and "Dialetics: Utility First". On the one hand, these events stimulated creative and academic discussions about the theories and practices of weaving-fabrication across the world, and on the other hand, it promoted the interaction between the art academiaes and the industry. In 2016, from March to August, Fab-Lab will l aunched a series of activities organize lecture series about on medieval tapestries and iconology, Liang Shaoji lLecture given by Mr. Liang Shaoji, weaving movie show on weaving, fiber art study lecture, etc.
International Aacademic Wworkshop: World Wide Weaving: Seed Bank of Crafts
World Wide Weaving is an experimental art and educational program co-sponsored by the fiber art departments of the China Academy of Art and of the KHiO. Its classes will begin on the same day with the triennial (August 25th to September 10th, 2016), and last for two weeks. Like The same as knotting and ceramics, weaving is also one of the oldest crafts in human cultures, and we maycan still find ancient fabrics everywhere in many parts of t he world today. But fabric is more than just weaved material. It is deeply intertwined with the society through various social exchanges like swapping, trading and other possible exchanges unique in the weaving process. Textiles can be linked directly to society-wide weaving.
Students in this program will have the chance to carry out researches strategically and practically. They will need to visit several fabrication sites in and around the city of Hangzhou to completefinish their personal study project and contribute to the editing and publication of the book World Wide Weaving Dictionary and Manual: Different Spaces.
Opening Llecture and Sseminar: Textile Thinking
The proposed theme of this triennial is "weaving/ fabrication", which will include a broad range of topics in the modern and history as well as in the current concern of fiber art such as museum collection & studies and local plans. By following our cultural tradition, the crafts legacy and the items that are considered as art, we can observe the art practices and studies of artists, and use fabrics to trigger our willingness to touch, to know and to think. These activities all echo with and stretch the theme of the triennial "W&W" from different aspects.
The lectures and the forum will present the background and current development of fiber art, which is quite unprecedented rarely seen in international arena. They constitute a derivative platform treading all the way through and even after the exhibition. Fiber art is a well-defined industry and subject, so it can inject new ideas and suggestions into art creation.
One of the activities is the keynote speech "Think via Textile" themed on collections in fiber art museums. We have invited the curators of Philadelphia Museum of Art, Museum of Modern Art (MoMA) and Indian National Gallery of Modern Art, chief curator of V&A Fabrics Department, sponsors of the fiber art triennial, etc. to discuss the context and significance of modern fiber art in museum collection. Other activities include "Fiber Art Sketches: China Experiences" hosted by young Chinese curators and researchers, "Questioning Exhibition" fiber art special show participated by artists and curators, and artists lectures, etc.
Liang Shaoji's Ssolo Eexhibition: "Liang Shaoji: Cloud above Cloud"
Liang Shaoji's solo exhibition: "Liang Shaoji: Cloud above Cloud" will be hosted at the same time simultaneously with the triennial in the Museum of Contemporary Art of the China Academy of Art. As an early graduate of The China Academy of Art,The China Academy of Art is his alma mater, and Mr. it's the first time that Liang hosts his solo exhibition herein his old school for the first time. With life as core and living creatures as media, his works areis renowned for interactions with the nature. In his works, raw silk is used to embody the confinement of people's lifein a cocoon weaved by themselves, and. Meanwhile he enjoys detecting the soul of ancient Chinese architecture in rotten wood. He sits quietly in the wilds and mountains, and looks around only to realize that everything is as transient as fleeting cloud, so as to calm the disturbed and restless minds in the chaos of the world. His art works are not simply items, but the traces of actions and thoughts, just like the footprints along the journey of life. The earlier works of Liang were mainly abstract and static tapestries and bamboo- or fiber-woven installations, which are well-received in international art and crafts exhibitions. But he is not satisfied. In 1988, Liang experimented with very personalized silk materials. He raised silk worms and used these lively worms as part of his exhibition. It is fair to say that his art creation has entered a new phase, which features the convergence of biology, biosociology, sculpture and weaving, installation and performance art.
Theme Eexhibition: Weaving and We (W&W)
Weaving is the main thread and the source of inspiration for the planning of this triennial. As a specific fabricating method, weaving, by making use of the materials and techniques, becomes the agent of historic narratives. In different patterns sketched in the past, fabric, as the symbol of power, has been long-term and properly preserved. FThe fabrication behind weaving is also the process of uniting a group or fostering a system. In Statesman by Plato, weaving is worshipped as kingship art.
The center of fiber art in the world is no longert only in Wwestern Europe or North America where contemporary art congregates, but in China, Eeastern Europe, Middle East, South America and Africa. The layout of current fiber art development not only reveals the history of art, but also the mechanisms of contemporary art. W&W raises the awareness about the essence of fiber art. In accordance with its unique pace and spirit, weaving is shaped as a social activity, an exhibition practice that links art with the industry, with local areas and other social sectors.
This eExhibition not only demonstrates the works of curators and artists, but also aims to present, inspire and recycle some lasting thoughts. This focus of theis exhibition is "touch and measure". The features of fiber art and its materials will be revealed in "soft monument" and "traces of narratives". The finely-knitted items will be placed in every corner of the exhibition hall, showing mottos about history, society and love. In this world dominated by visual art, weaving renders a new way of sensing art: touching.
Six archives will also be onstage throughout the exhibition: "Perfect convergence: Albers and South America", "Sheila Hicks: Fifty Years' Diary", "Occur and Prosper: Fiber Art Education in Poland 1950-1980", "Evolution of Peony", "Craftsman and Crafts: Liang Xuefang and Her Mother'sEmbroidery" and "The Bauhaus Textile Workshop". During the same period, Chinese artists such as Liu Wei, He Xiangyu, Hui Ganyuan and foreign artists such as Williem de Rooij (Netherland), ,Oscar Murrilo (British/ Columbia), , Piotr Uklanski (Poland/ U.S.), over-eighty-year-old Sheila Hicks, the Croatian team Numen/ For Use and the sponsor of community yarn bombarding Magda Sayeg will all show their works in the summer in Hangzhou.
The Hangzhou Triennial of Fiber Art is jointly sponsored by Zhejiang Provincial Department of Culture, China Academy of Art, Zhejiang Art Museum , and China National Silk Museum etc. The duration of TriennialIt will open onis from August 25th to and will be held until October 25th, 2016.
Media Contacts
Li Wen
liwen@zjam.org.cn
Liu Pinyu
liupinyu@foxmail.com